Reception Honoring Newly Licensed Attorneys – November 8, 2017
Newly licensed attorneys of 2017 were honored by the CCBA at a happy hour reception on Wednesday, November 8, 2017. Honorees, their families and friends, and CCBA members mingled at the Havana Club in celebration.
The event was generously sponsored by FROST Bank and the law firm of Wood, Boykin & Wolter, P.C.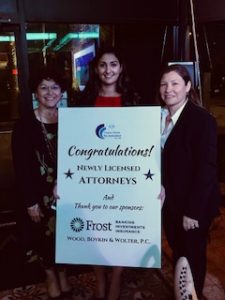 Salvation Army Volunteer Day – November 4, 2017
Message from Corpus Christi Bar Association President Susan Ochoa:
On Saturday, November 4, 16 CCBA members and staff helped pack food boxes at the Salvation Army Community Center. It was an awesome experience and we truly all could see the need in the Coastal Bend area for such an organization and the need for volunteers. Together we packed about six pallets, five feet high, of food for distribution within the community. In partnership with the Corpus Christi Food Bank, the Salvation Army currently distributes 100-150 boxes per day to families and individuals in need.
The CCBA has committed to volunteering for various Salvation Army efforts on the first Saturday of each month through May 2018 and hope you will join us next time.
Hurricane Harvey Disaster Response Legal Clinic – November 1, 2017
In partnership with the San Antonio Young Lawyers Association and the Community Justice Program, the Corpus Christi Young Lawyers held a disaster response legal clinic on Wednesday, November 1, 2017. The clinic took place in Portland and volunteer attorneys provided advice to local residents seeking assistance for hurricane related legal issues. Funding for the clinic was generously sponsored by a Texas Bar Foundation Grant.